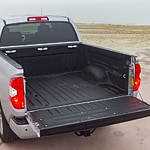 Toyota Tundra more than delivers in every category relevant to a full-size pickup. It's easy to see why this powerful workhorse dominates its competition, especially in the towing, hauling and efficiency categories. Better still, Tundra's newest iterations boast trend-forward tech features. Our Titus-Will Toyota team selected the following two features to illustrate.
Forget the days of bulky aftermarket navigation equipment taking up space on your dash. Tundra's integrated, in-dash navigation system consists of a big, bright, 8-inch touchscreen display. Intuitive menus and constantly updated GPS info make it a cinch to find obscure addresses in Tacoma, WA. Toyota's Smart Key System makes it possible to unlock doors, lock doors or open Tundra's trunk without having to fish your key fob out of your pocket or purse. Tundra senses microchips within the fob, turning on puddle lights when you're within three feet of the truck. Then, after you place your hands in various positions behind the driver's side handle, Tundra automatically opens one or multiple doors or the trunk.
Learn how easy it is to activate and use Toyota Tundra's Smart Key System today. Visit our dealership for a test drive. We hope to see you soon.