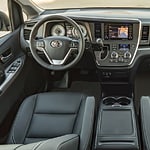 The 2020 Toyota Sienna is a vehicle that is a great choice for people who are looking for a minivan. It can seat seven or eight people. You will be able to ride in comfort. There are also a lot of convenience features.
You probably know what it is like to try to open a door with a full hand. That can be quite difficult. Fortunately, it will be a lot easier for you to open the door if you have a Smart Key System. If you have the key in your purse or pocket, then you can touch the door to unlock it.
This vehicle also has Auto Access Seat. It will make it easier for you to get in and out of the car. The seat can rotate 90 degrees and lift. You will need to visit the dealership if you want to test drive the Toyota Sienna.